San Diego DUI Lawyer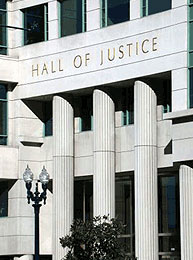 If you have been arrested or charged with a DUI (driving under the influence, drunk driving) or any other alcohol-related driving offense, you need to contact an attorney immediately to properly protect your rights. The Law Offices of David M. Boertje provides clients charged with DUI throughout San Diego County and surrounding Southern California communities with unparalleled service and superior results when facing misdemeanor DUI or felony DUI and drunk driving charges. DUI attorney David M. Boertje routinely finds legal defects associated with the officers' traffic stops, field sobriety tests, and blood alcohol chemical tests. Exposing these defects in a case to the prosecutor or judge often results in a more favorable plea bargain, or the dismissal of some or all of the DUI charges. Our office stresses active and aggressive DUI representation from the initial arrest, throughout the court process, and all the way through trial.
Our office is fearless when it comes to defending your case. We will conduct a complete investigation into the circumstances surrounding your case. We will develop creative defenses and uncover any evidence that can help us with your case. We draft and argue discovery motions, evidence suppression motions, and motions to disclose police officers' backgrounds. We serve subpoenas, gather evidence, and secure witnesses. We will aggressively negotiate your case with the prosecutors. In short, our San Diego DUI attorney will do everything and anything possible to obtain a successful outcome for you.
DUI
California has strict drunk driving laws. Under California Vehicle Code section 23152, it is unlawful to operate a car with a blood alcohol content of at least .08. A first DUI without bodily injury can result in 48 hours of incarceration, $2,000 in fines, a suspended license, and the completion of a three-month alcohol education program. Often, a judge will be lenient and order probation for a first offense. Still, it is important to fight a first-time DUI charge to keep your record clean and your driving privileges intact. Your attorney may be able to argue that the police stop was unjustified or that testing was not properly conducted, among other strategies.
Repeat DUI
Repeat DUIs are punished more harshly than first offenses. The lookback period for prior offenses is 10 years. If you have a second DUI conviction in 10 years, you will need to serve at least 96 hours and up to a year in jail. For a third DUI conviction in 10 years, you can face 120 days to a year of incarceration. For a fourth DUI, you can face 180 days to three years in state prison. Since these consequences are so severe, you should consult a DUI attorney in the San Diego area immediately if you are facing a repeat DUI charge.
DUI Enhancements
California statutes enhance the penalties that come with a DUI conviction when certain circumstances are present. Under California Vehicle Code section 23578, for example, you can face enhanced penalties if your blood alcohol content was at least .15. Other factors that are considered aggravating and can lead to enhanced penalties include causing a bodily injury to another person or getting into an accident. Enhanced penalties can include longer periods of incarceration, longer periods of probation, longer alcohol programs, more expensive fines, and the requirement that you install an ignition interlock device.
DUI Hit & Run
California law requires you to stop at the site of the accident if you are involved in a traffic collision. Whenever you are involved in a traffic accident with another motor vehicle, you are supposed to stop and give other drivers your contact information. You need to help anybody who was injured. If you do not stop and fulfill these obligations, you can be charged with a hit and run. Sometimes drivers are afraid of DUI charges and flee the scene of an accident. However, if you are charged with both a DUI and a hit and run, the potential penalties are harsher.
Felony DUI
Many of the cases that our San Diego DUI lawyer handles involve felony DUI charges. In California, felony DUIs are treated more seriously than misdemeanor DUIs. You can face time in prison. Additionally, it can be a challenge to obtain an expungement after you fulfill the terms of your sentence. Often, there are other penalties imposed, including significant fines and a period of license revocation. You can be charged with a felony for DUI causing bodily injury. You may face a maximum of three years in state prison, plus another year for each victim. Certain DUI offenses are called wobblers because a prosecutor can charge them as either felonies or misdemeanors. In some cases, a defense attorney may get a felony DUI charge reduced to a misdemeanor DUI charge.
Vehicular Homicide
Vehicular homicide is defined under California Penal Code section 192(c). You can be charged with felony vehicular manslaughter if you cause another person's death while driving a vehicle, either by negligently perpetrating an illegal act that is not a felony under California law or by perpetrating a legal act that could cause death. Drivers perpetrate misdemeanor vehicular manslaughter by negligently causing another person's death while violating a traffic law. For example, if you kill someone while running a red light, you can be charged with misdemeanor vehicular manslaughter. The traffic violation must be a type that poses a threat to human life.
DUI Expungement
Expungement is a type of post-conviction relief that permits you to clear your record and take away the limitations of a DUI conviction. It is not automatically granted. Instead, you need to take certain steps to obtain an expungement, and your conviction needs to be eligible for expungement. You can get your DUI conviction expunged whether you pled no contest or were convicted of a DUI, and whether you fulfilled probation terms or were discharged prior to the completion of probation. Our DUI lawyer has helped many San Diego residents expunge convictions.
DMV Hearings
Due process under the state and federal Constitutions entitles you to notice of an action to be taken against your driving privilege. You are supposed to be given a chance to be heard at a DMV hearing. Along with facing criminal penalties like jail time and fines, you may need to deal with the DMV's administrative action against your license. Revocations and suspensions of your license are administrative actions. Issues that may be addressed at a DMV hearing may involve the chemical test that you took. The DMV also may consider whether the officer had reason to think that you were driving a motor vehicle in violation of certain laws, whether you were lawfully arrested, and whether you were driving with a blood alcohol content of .08 or more.
Consult a Dedicated DUI Attorney
David M. Boertje is an experienced criminal defense attorney who has dedicated his professional life to defending people accused of DUI and other crimes. Our office is dedicated to providing aggressive legal representation in all DUI cases to pursue the best possible outcome for each of our clients.
Our firm accepts all major credit cards and offers flexible payment plans. We have offices in San Diego and Carlsbad, and we handle cases throughout all of San Diego County. We offer an emergency service that is available 24 hours a day. For further information about your specific DUI case, contact us online or at (619) 229-1870 for a FREE CONSULTATION with an experienced DUI attorney in the San Diego area.